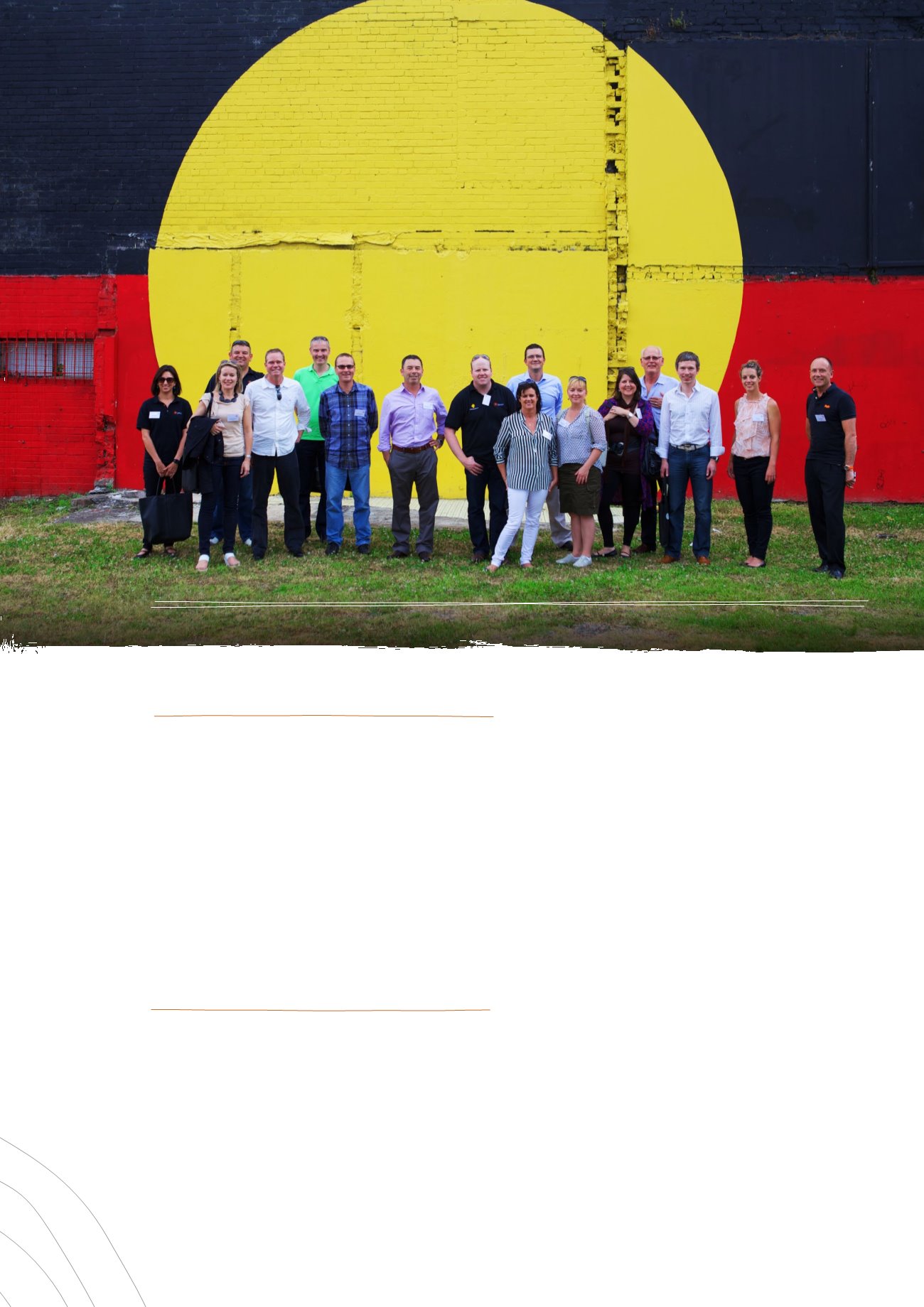 The growing numbers of people working with
Indigenous organisations and leaders through
Jawun are supporting the development and
long term sustainability of those organisations
and the communities they serve. Many of the
people working quietly behind the scenes with
Indigenous people and communities have been
inspired to do so by their Jawun secondment
experience. Jawun has brought together
Indigenous leaders, business leaders and senior
bureaucrats in ways that have enabled them to
forge strong relationships. These groups have real
influence and are collaborating to drive positive
recognition, empowerment and change for
Indigenous people and their communities.
Kate Chaney, Sustainability Manager at Wesfarmers,
participated in a Jawun secondment to Cape York
while she was working for BCG. Kate described the
experience as 'one of the most rewarding things'
she had ever done, and years later it prompted
her 'to think in broad terms about how I could
get involved in Indigenous affairs'. Kate went
on to become Manager of Aboriginal Affairs at
Inner Sydney Executive Visit group at The Block in Redfern, 2012.
Photo: Ceri Foster of ArtOf2
Wesfarmers, where she developed a Reconciliation
Action Plan and worked with the divisions on
Indigenous employment strategies. Through that
process, Wesfarmers became a Jawun partner
and has since sent close to 100 secondees to
Indigenous organisations. Kate's example highlights
the value of her secondment in spurring her to
further engagement with Indigenous Australia;
she also reflected on the power of Executive
Visits in maintaining that engagement at an
organisational level: 'Most of the Wesfarmers board
and many senior managers have been on Jawun's
Executive Visits, which has informed the way
Wesfarmers understands its role in relation
to Indigenous disadvantage.'
As General Manager of Marketing at Westpac in
2001, Peter Hanlon was already in a senior role
when he participated in a Jawun secondment to
Cape York. He reflected: 'The impact it had on me
was that it reignited my desire to use my position
to help people and issues in Australia, but also
enabled me to be that strong and experienced
voice within Westpac.'
A GROWING RIPPLE EFFECT 57