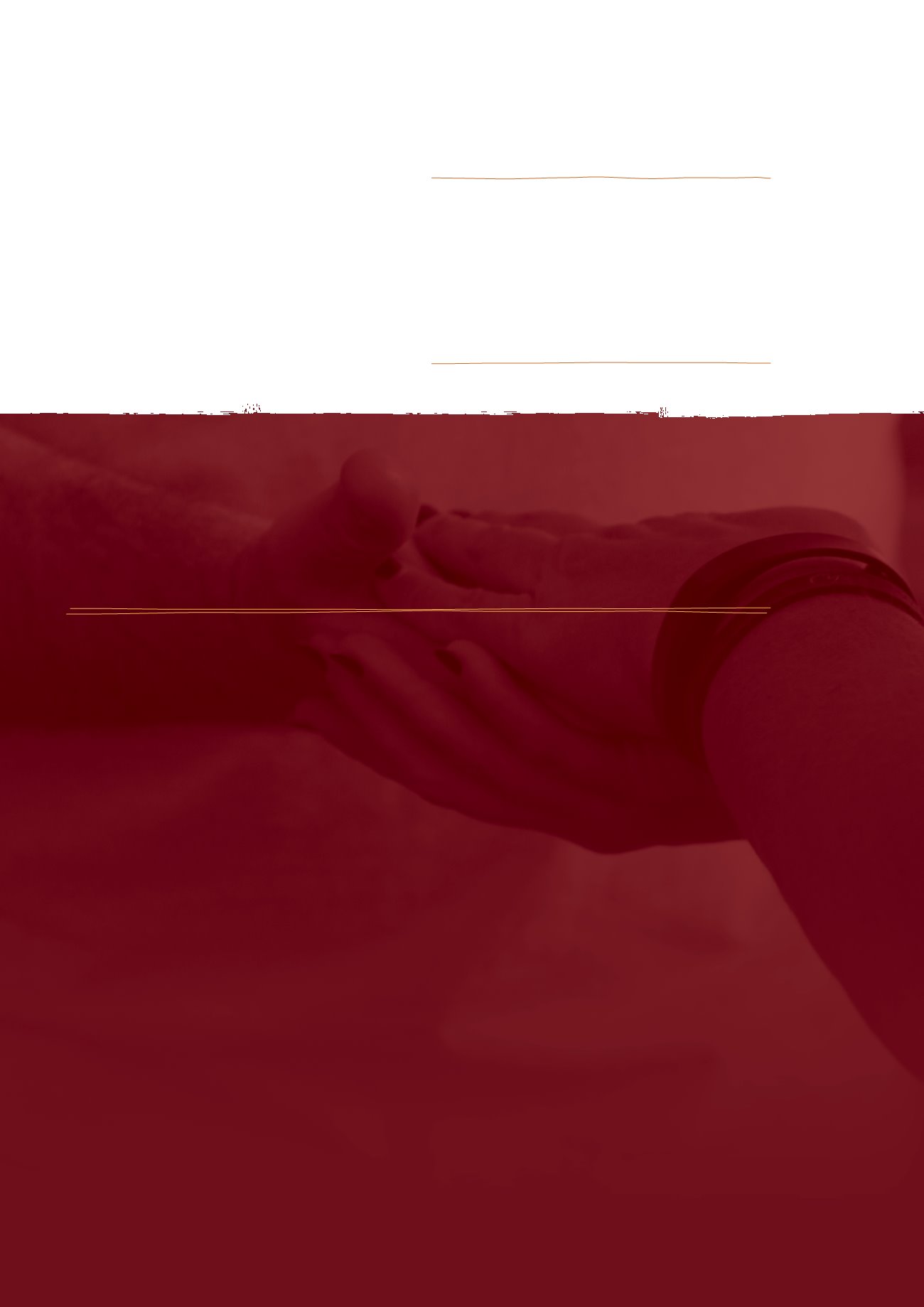 Luke Raffin was only two years into his career
at BCG when he was seconded to Cape York for
six weeks. After his secondment he completed a
Master of Public Policy at the Harvard Kennedy
School of Government. He went on to work for
Tony Blair Associates as an adviser to the Prime
Minister in Mongolia and then to the Prime Minister
in Haiti. He now works as a consultant for BCG.
He reflected on the influence of his secondment
experience on his career progression to date:
Becoming a leader
Steph Stokes from NAB had a very
personal reason for applying for
a Jawun secondment. 'I had my
daughter when I was 17. People
may have looked at me and
thought, "Young mum—probably
going to live off welfare for the
rest of her life." When I learnt more
about Indigenous disadvantage,
it made me angry. I wanted to
share that if you have the right
support around you and people
who believe in you, you can do
whatever it is you want to do; you
can get what you want out of life.'
Steph's secondment in mid-
2014 took her from Melbourne in
Victoria to the West Kimberley
in Western Australia, where she
worked with the Beagle Bay
Women's Group for six weeks.
She was willing to go to a remote
community, even though it took
her away from her three children.
'My husband was very supportive
… I think if you take yourself out of
it and even the kids out of it, it's
a small sacrifice for everybody to
make for such a bigger, significant
purpose.'
The six-week secondment had
a profound impact on Steph,
challenging her to come out of her
shell and build new relationships.
'It was like growing up,' she
said. During her time with the
Beagle Bay Women's Group,
she developed skills in external
stakeholder management and
self-leadership. 'It's all autonomous
work, so I learnt how to manage
many, many moving parts.'
Steph came back to NAB feeling
significantly more confident in
her abilities, which enabled her
to embrace new opportunities. 'A
couple of months after I got back
from secondment, I was asked to
do a presentation for 70 leaders
for direct business down at the
convention centre. I thought,
"Wow, I have never done anything
like that before."'
Steph's increased confidence and
competency did not go unnoticed
by her managers: she has been
promoted twice within NAB in the
last 12 months. 'When I came back
home, I was really looking for what
that next step was. An opportunity
opened up in our Indigenous
team—a consultant role managing
our traineeship program. I applied
for the role and I got it, which was
just amazing as I know there was a
really strong pool of candidates.'
The role was a secondment to fill
a maternity leave position, and
Steph has since been promoted
again to the role of Business Unit
Manager. 'I think seeing the change
in me going away and then doing
the employment consultant role
was what gave [my managers]
comfort that I was ready for
this role.'
Steph now manages eight direct
reports who are all team leaders.
'Basically, I'm a leader of leaders,'
she said. She attests that her
secondment experience has
influenced her leadership style.
'As a leader, my personal goal is to
see the best in people, to see the
potential … The Jawun secondment
was a really good opportunity to
see that. When you think about it
from an Indigenous perspective,
about the disadvantages and
stereotypes they face, sometimes
they just needed someone to
say, "You can do this!" It's the
same here. All our guys are super
capable, but you have to tap into
what motivates them—why are
they here, what do they want to
get out of it and where do they
want to go.'
I think Jawun was a factor in the trajectory, both
because it really doubled my interest in these
types of problems—how you help people's lives
improve by giving them more opportunities—but
also made me realise again the importance of
understanding why people behave the way they
do and what their incentives are, and what are
the barriers to them accessing opportunity. I think
the secondment was a foundation experience.
CASE STUDY
24