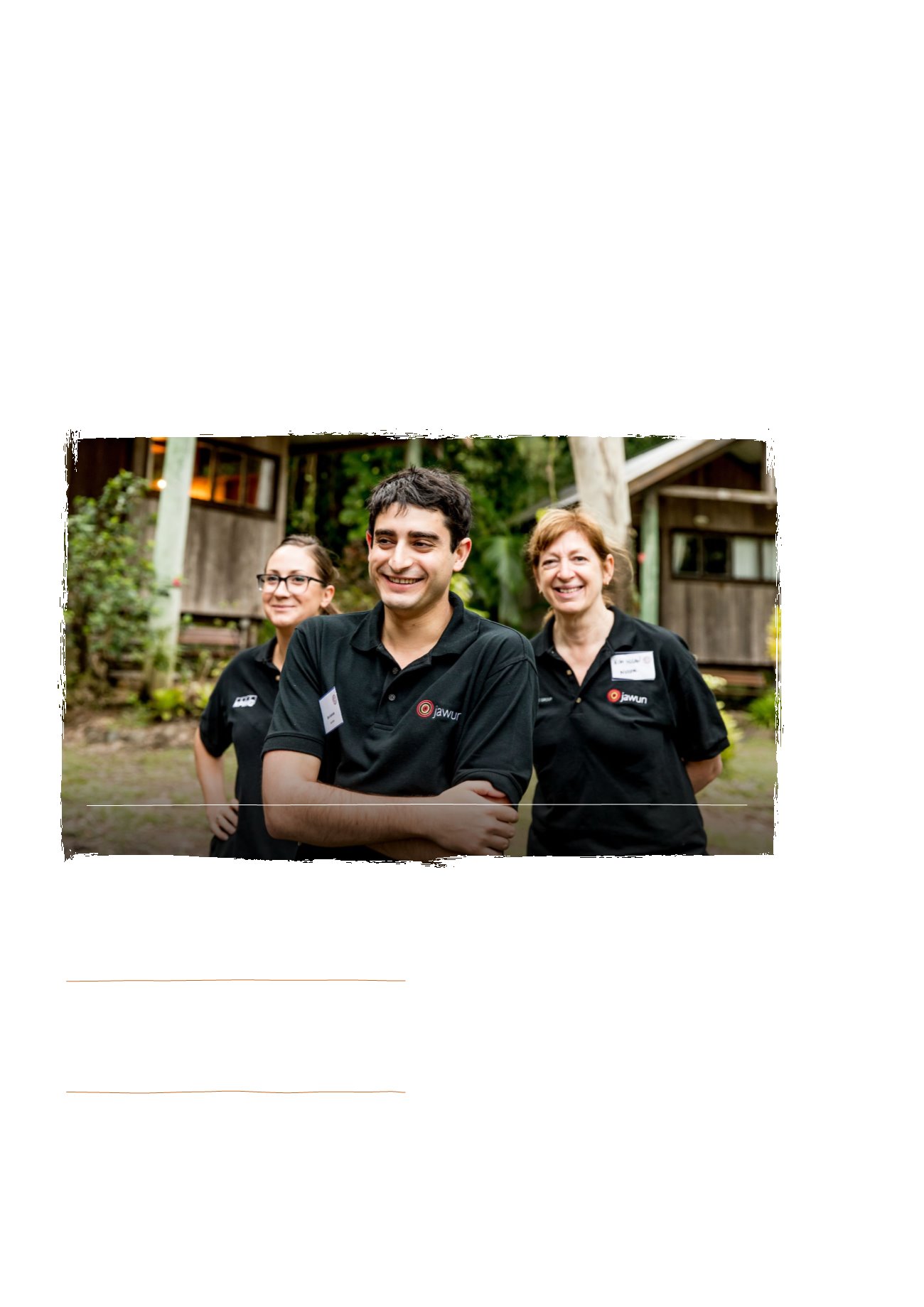 Origins of Jawun
In 2000, Cape York Indigenous leader Noel Pearson
published his seminal essay
Our Right to Take
Responsibility
.
1
At the time, the state of affairs
for Indigenous people in the Cape was grim.
The Fitzgerald Cape York Justice Study, conducted
a year later in 2001, found that alcohol abuse and
violent misconduct had become socially normalised
in Cape York communities. In his essay, Pearson
examined the culture of excessive drinking in the
Cape, and argued that 'passive welfare' (payment
given to individuals or groups without any
From left: Grace George (KPMG secondee), Ben Andrade (Macquarie Capital secondee) and Kim Hogan (Westpac secondee),
Cape York, 2014.
Photo: Daniel Linnet, Linnet Foto
reciprocation on their part) had led to a breakdown
of traditional Aboriginal values and become the
most pressing problem for his people:
Once we see the direct connection between
our passive welfare dependence and
our outrageous social problems, we realise
the utmost urgency in the need for the
transformation of [our communities].
The solution to the passive welfare crisis, Pearson
argued, was to facilitate the return of Indigenous
people to the 'real' market economy. But the
method was critical. In order to achieve lasting
change, the focus needed to shift from 'giving
assistance' to Indigenous people—an approach
that had consistently failed to deliver lasting
social and economic improvements—to
empowering Indigenous communities to
resolve their own problems.
These principles became the core philosophies for
Jawun, which was established in 2001 under the
name Indigenous Enterprise Partnerships (IEP).
The founders of Jawun believed in supporting
Indigenous-led programs that would promote
and enable self-reliance, entrepreneurial activity
and economic independence among Indigenous
people—programs that would help them take their
place in the 'real' economy. To achieve these aims,
they created a network of partnerships between
Indigenous, corporate and philanthropic groups,
with Jawun operating as the facilitator or point
of connection between each group.
Within the network, Indigenous partners
determined the priorities for social and economic
development in their regions; corporate partners
provided staff (known as secondees) for
select periods to support Indigenous partner
organisations in their objectives; and philanthropic
trusts and foundations provided valuable
leadership and financial support. The network later
expanded to include government partners, with
government departments providing secondees
from 2011 (see Figure 1).
4 JAWUN 
2015 LEARNINGS AND INSIGHTS